Forgive me my readers, for I have sinned. Yes, I promised that there would be a mail post "in the end of this week".. Well, it's been about three weeks since I wrote that, oops (or at least I wrote that in Finnish, hehe). I really don't want to become one of those bloggers who begins all of their blog posts by apologizing for inactivity, but let me just say, life is keeping me super busy at the moment! Last week I had a little more spare time than usual because it was Easter and obviously I didn't have school. I
finally
had time to answer to all of the letters: one of them had been waiting for my reply since October. Now I have zero letters waiting to be written, so I think it's the best time to make another mail update - now that we actually are back on track with them, haha!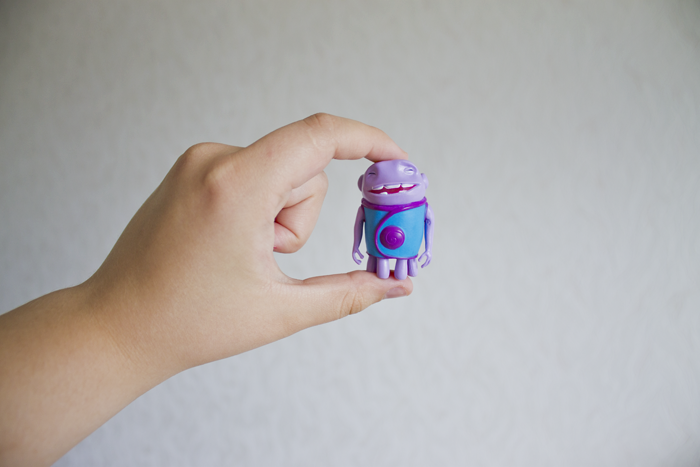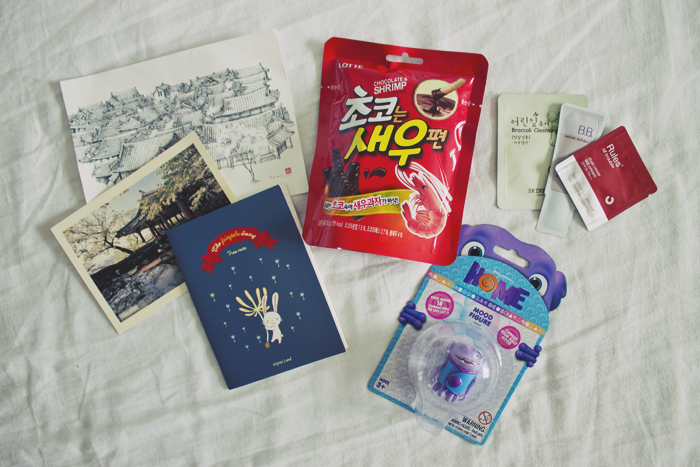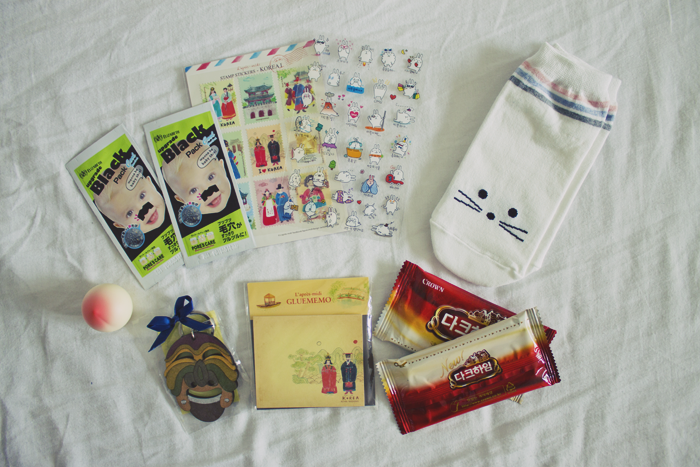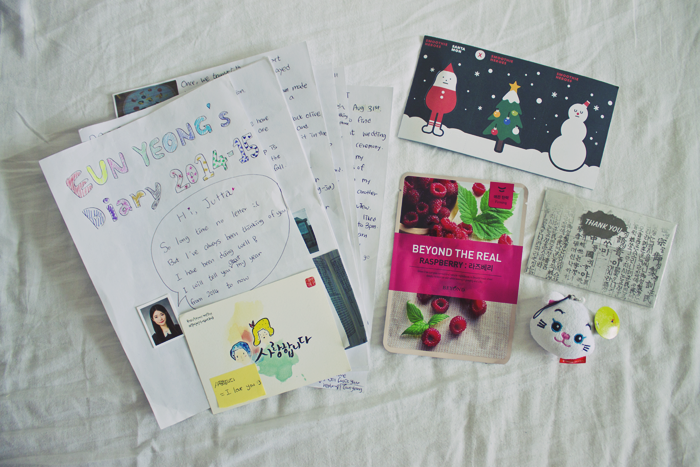 So, let's begin from the oldest. I got this lovely package from my dear pen pal from South Korea. I've written about Eun Yeong before, but to make a long story short: we started writing in 2007, so basically we've known each other for almost ten years. During the past few years our correspondence has been quite random since we both are busy with studying and other stuff. The package and letter she sent me in October was the first I got from her in 1,5 years. There was a looooong, lovely letter and some cute gifts. I think my favorite thing was that weird Korean treat - a shirmp flavored something that was dipped in chocolate! Seriously, do you get that from anywhere else in the world? Surprisingly to me, it tasted kinda good! I also love the Asian face masks, even though I look like a show wrestler while using one. That raspberry mask just smelled so good.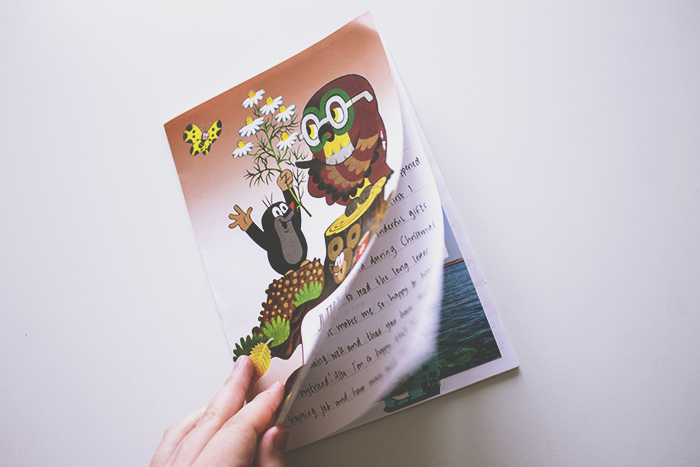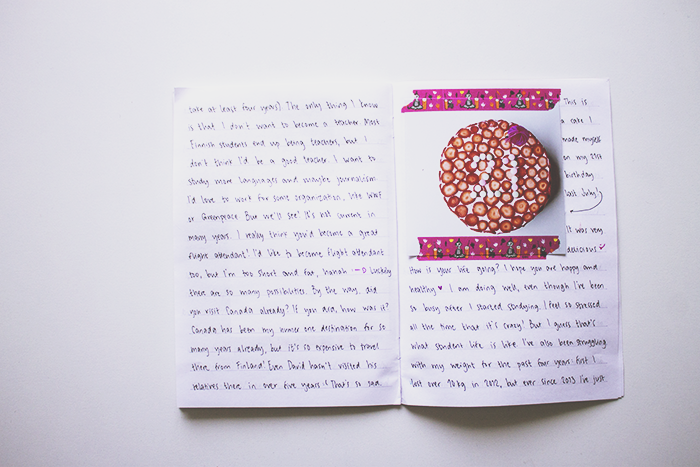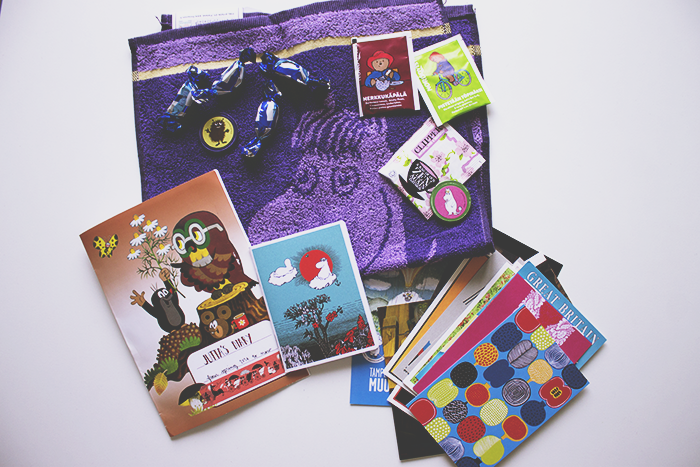 And this is what I sent back to her! Like I said above, it's been a long time since we've been writing, so I actually wrote her a reply in a Krtek notebook and managed to fill all of the pages! Crazy, haha. I attached some photos I had ordered from Printic. I think the letter turned out really nice! I also sent her some candy, notebook, postcards, tea and a Snorkmaiden towel.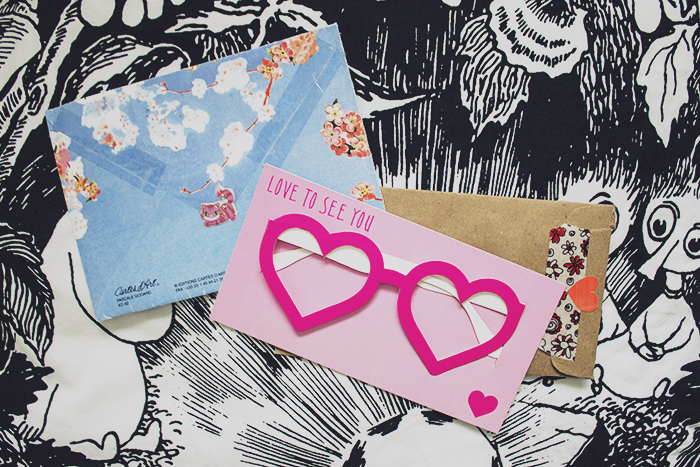 A letter and a super cute Valentine's day card from Melanie, The Netherlands.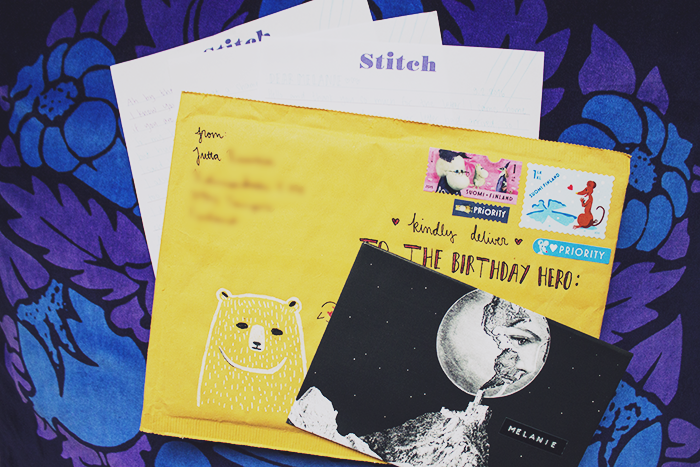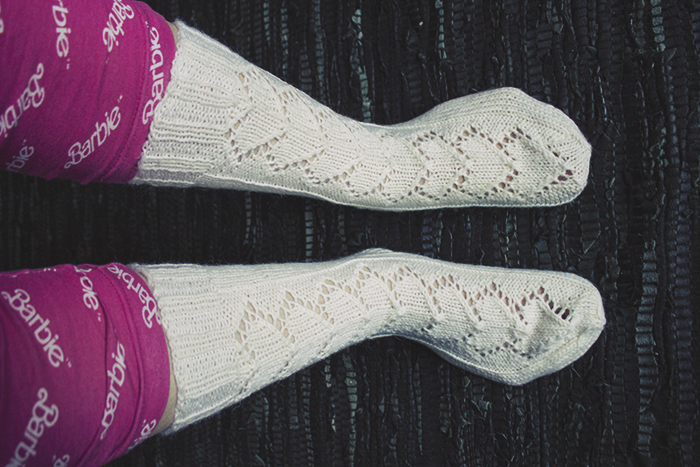 A letter and a birthday gift to Melanie. I knitted her those heart socks for her birthday and I really liked them. I think I must knit ones for myself too! By the way, just ignore my Barbie pajama pants.. I bought them last summer when we were in London.. Just for the nostalgia, ofc. I had Barbie pajamas as a kid too.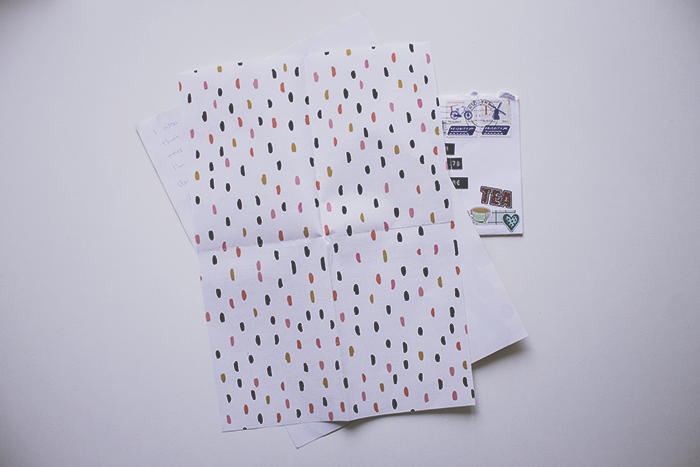 A letter from Melanie. Look how cute the stationery is!!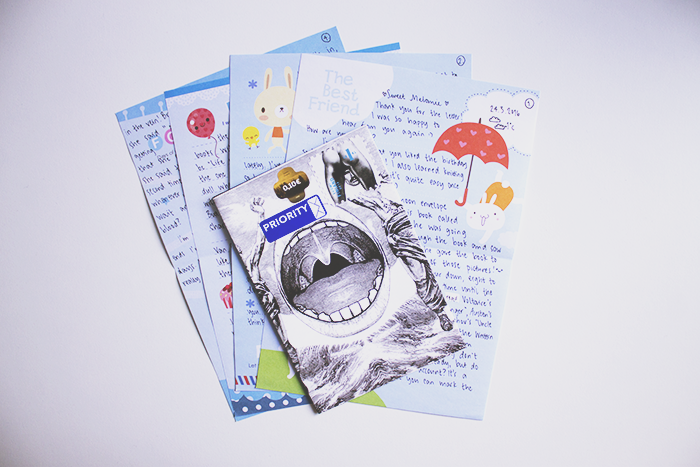 A letter to Melanie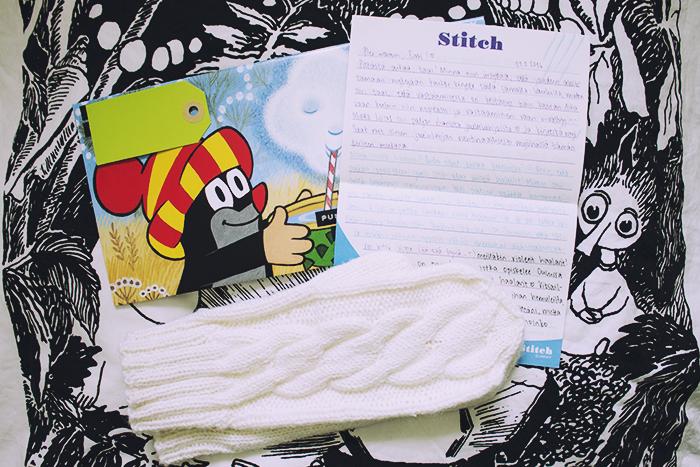 A letter and a super belated Christmas gift to Essi, Finland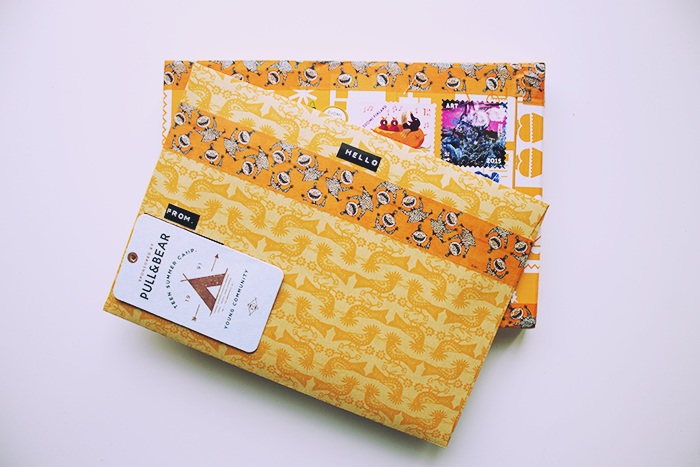 A letter and a small package to Pin Ju, Taiwan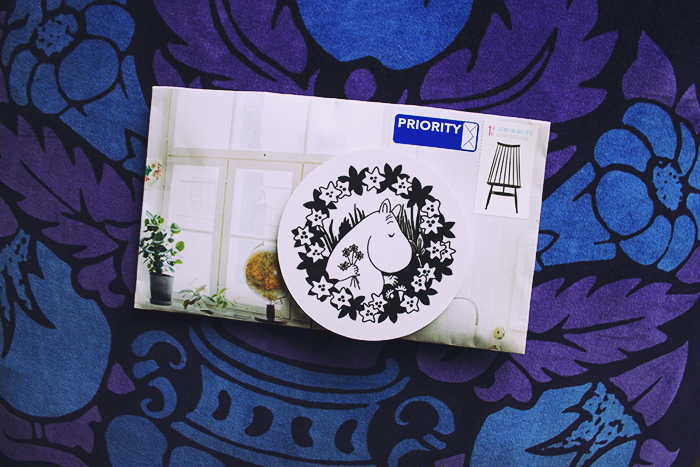 A letter to Laura, Belgium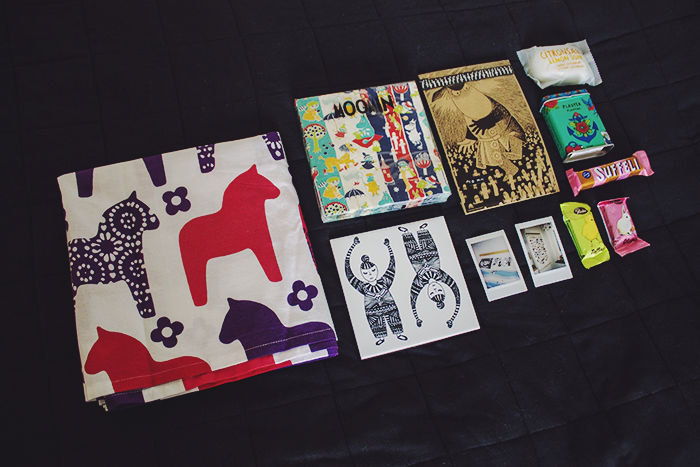 A letter and some gifts to Mai, Japan. Mai is going to move on her own soon, so I wanted to send her a little survival kit for her first own home!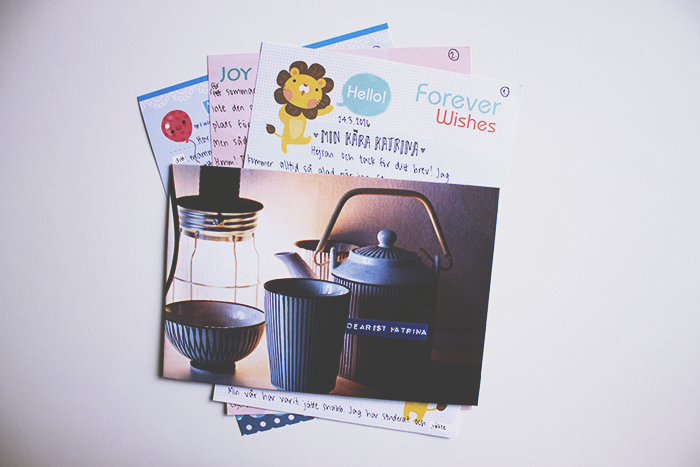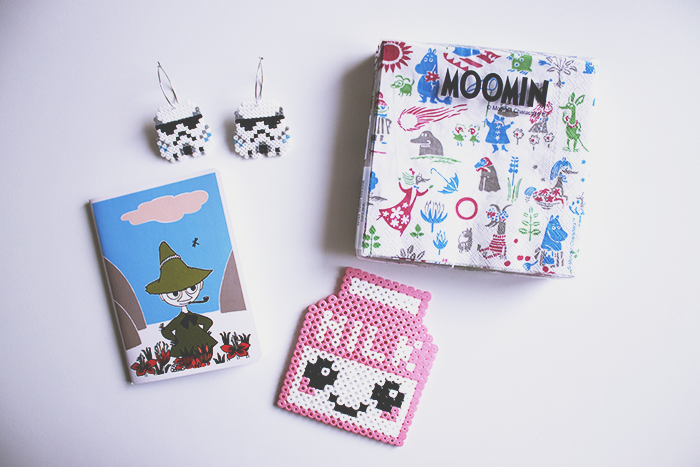 A letter and a small package to Katrina, Norway. For the first time in ages I decided to write her in Swedish. We sometimes do this thing that she writes to me in Norwegian and I write to her in Swedish. It's funny how similar those languages are - even though I've never studied Norwegian and she's never studied Swedish we still understand each other pretty well (although sometimes I must use a dictionary). I've been really into making stuff out of Hama beads lately and in addition to earrings I'm soon going to make brooches too! I'd really want to open an Etsy shop or something where I could sell these things I make, but I think I'm a bit too wuss to do that!!
Postcards to Norway and Taiwan.
Phew, done and done. I hope you liked this post! Next post will be number 200! Now if you want to see something special in honor of that, leave your suggestions down below in the comment section. If I don't get any suggestions from you guys, I might just come up with something myself - or not - we'll see! Have a great weekend!