Berliinissä ollessamme varattiin yks päivä aivan täysin turisteilulle. Minun mielestä parhaita juttuja kaupunkimatkailussa on juuri turistikierrokset. Olen kuin kotonani siellä muiden vyölaukkukavereiden joukossa! Hypättiin sellaiseen sightseeing-bussiin ja mentiin kierros sitten ihan koko rahan edestä, nimittäin kaksi kertaa. Ei siis tajuttu ekalla kierroksella laittaa kuulokkeita korville, joten oltiin aivan pihalla niistä nähtävyyksistä :-D Saatiinpahan ainakin kunnolla ihmetellä jokaista pysäkkiä!
When in Berlin, we dedicated one day only to being a real tourist. That's actually my favorite thing about traveling in a big city: I feel like I blend in very well with all the other fanny pack carrying tourists. I love strolling around and seeing all the famous sights. In Berlin we jumped into a sightseeing bus and really had a good ride for our money - you see we took the tour twice in a row. Yep. On the first round we didn't realize that we were supposed put on headphones, so we kind of missed all the information about the sights :-D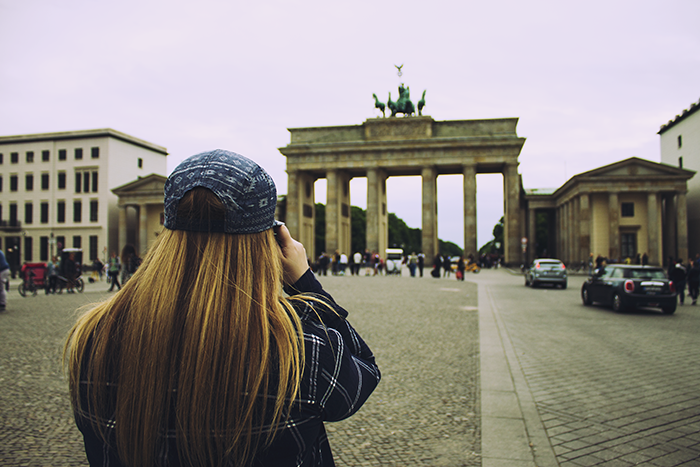 Brandenburgin portilla käytiin useammankin kerran. Tämä kuva taitaa itse asiassa ollakin eri päivältä kuin varsinainen turistikierros. Brandenburgin portti oli ainoita nähtävyyksiä, jotka etukäteen tiesin. Kun mentiin sinne ekan kerran päivällä, tuli heti sellainen olo, että se on kyllä pakko kokea jossain vaiheessa uudelleen illalla valaistuna.
We visited Brandenburgen tor actually many times. I think I took this photo on a different day than when the actual tourist tour was. Brandenburg tor was one of the only sights that I knew in advance. When we went there for the first time in the day time, I instantly felt like I needed to see it again in the evening with all the lights on.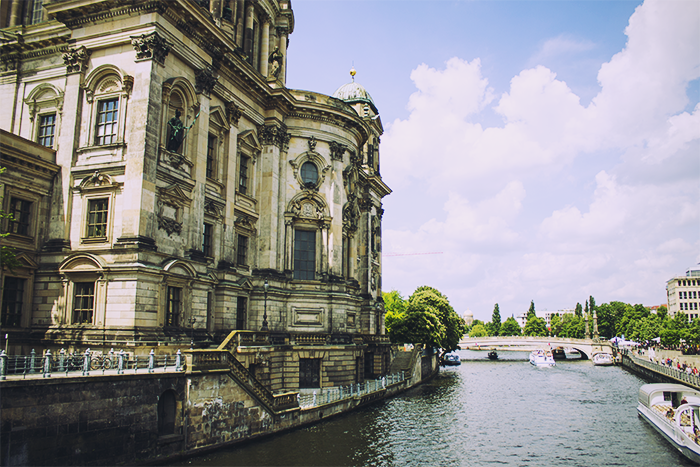 Berliner Dom -kirkon vieressä virtasi koko kaupungin halki kiemurteleva Spree-joki.
Next to Berliner Dom ran the river Spree, which actually flows through the whole city.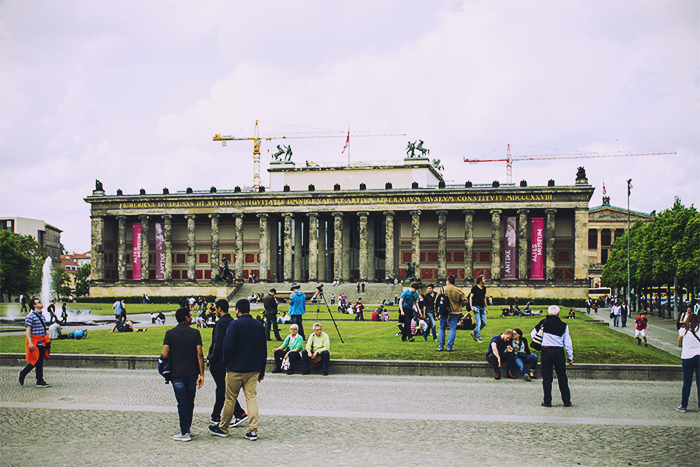 Kaupungin keskustassa sijaitsi museosaari, jossa oli muistaakseni ainakin viisi eri museota. Ei kylläkään käyty yhdessäkään, vaikka valinnanvaraa olisi ollut yllin kyllin!
In the city center there was a museum island, and there were at least five different museums. Although we didn't pay a visit to any of them!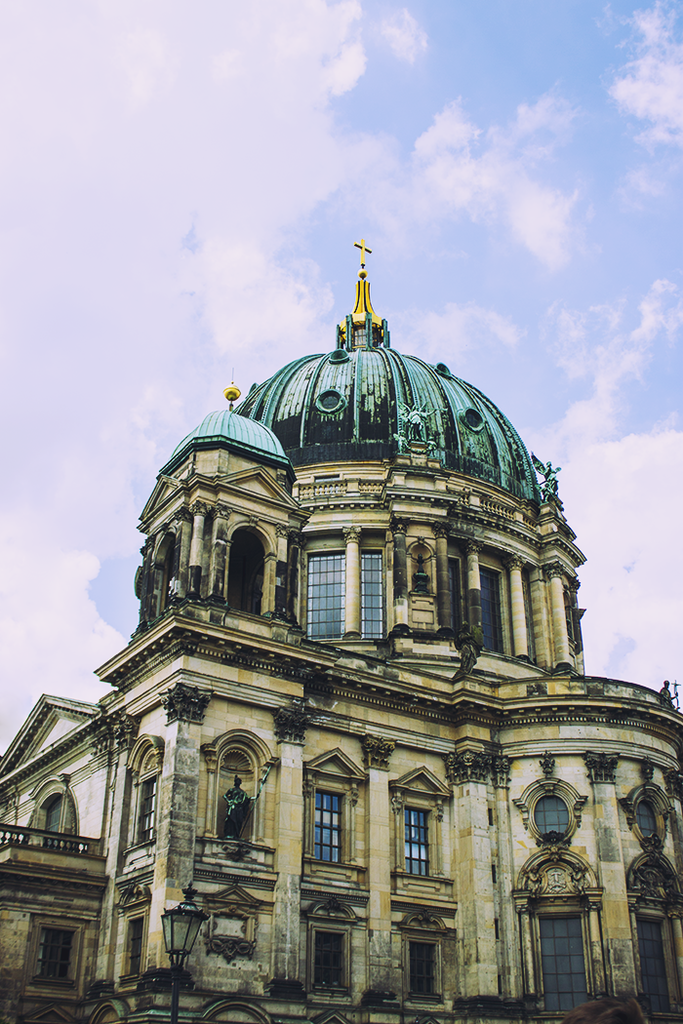 Upea Berliner Dom. Ei uskallettu kirkkoon sisälle, sillä ovella oli näyttävät varoitukset taskuvarkaista.
The magnificent Berliner Dom. We didn't dare to go in to the church, since there were big signs on the entrance warning about pickpockets.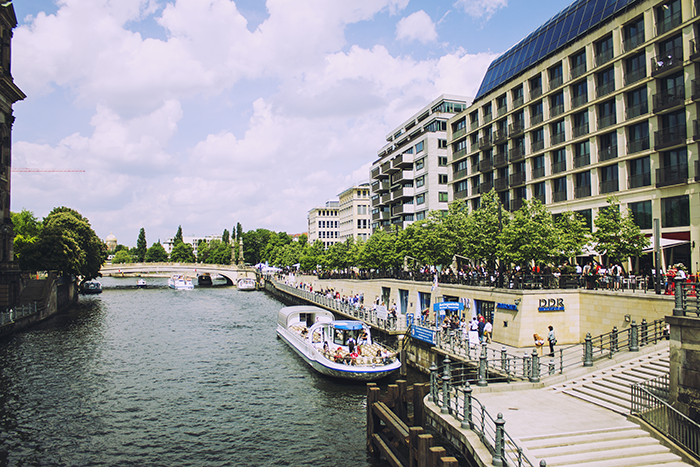 Spree-joella risteilee päivittäin turistialuksia.
These numerous tourist ships float on Spree river daily.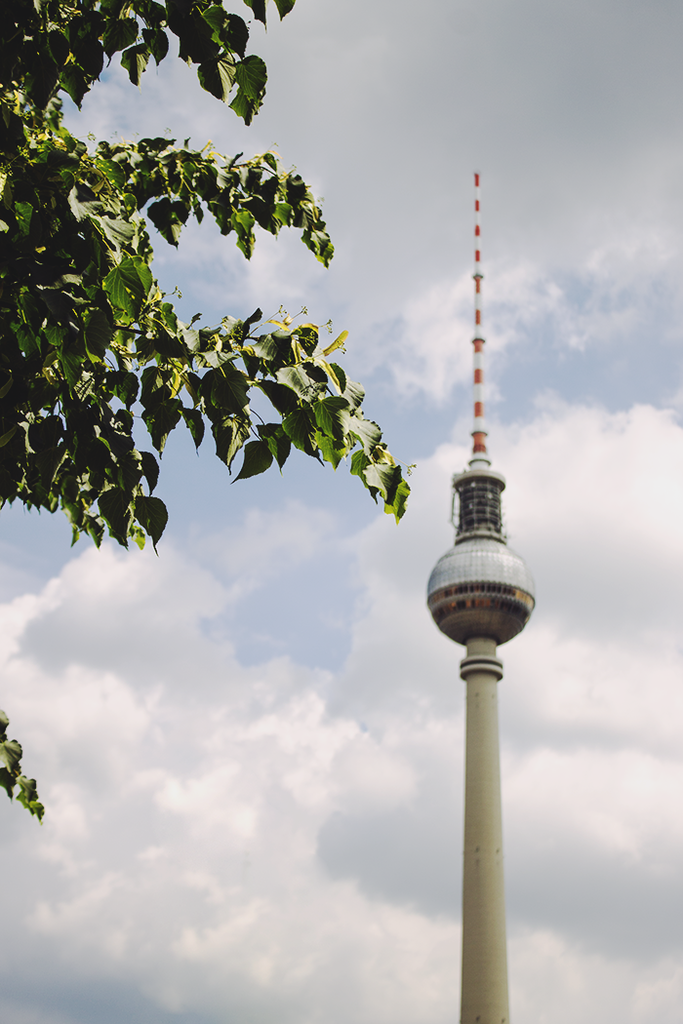 Henkilökohtainen lempimonumenttini, tv-torni, sekä keväinen kukoistus!
My personal favorite monument, the TV tower, and the springy bloom!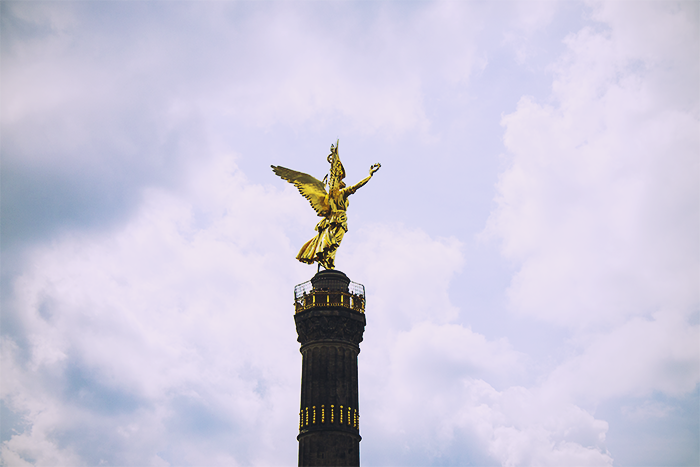 Brandenburgin portille asti näkyvä, liikenneympyrän keskellä kohoava tunnusmerkki, Voitonpylväs.
The very famous statue, Siegessäule, in the middle of a roundabout. You could see the shining statue all the way to Brandenburger tor.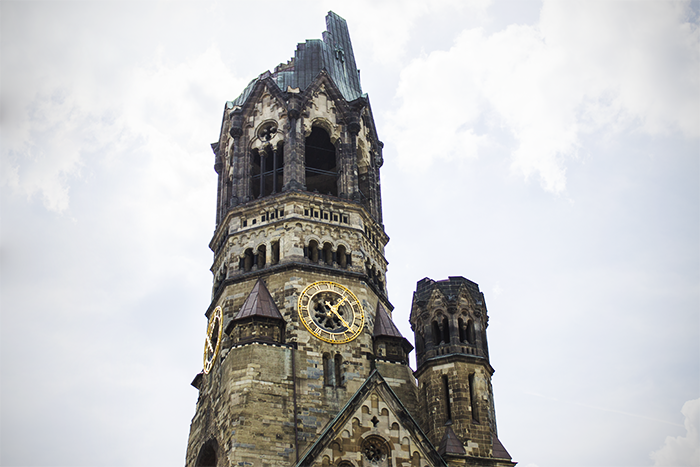 Toisessa maailmansodassa tuhoutunut Keisari Vilhelmin muistokirkko. Jotenkin jännä, että se on vaan jätetty tuohon kuntoon, mutta toisaalta se varmaan myös muistuttaa sodan kauheuksista ja tuhoista.
Kaiser Wilhelm Memorial Church that was destroyed during WW II. I think it's somehow strange that they left it like that, but on the other hand it might be some kind of statement or reminder of the war.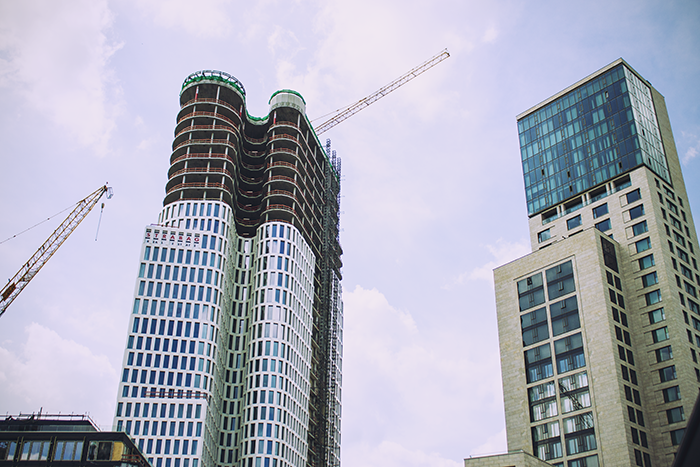 Kaupunkikierroksella oli kiva tarkkailla uuden ja vanhan balanssia kaupungissa. Kaikki monumentit sijaitsivat minusta jotenkin ihmeellisesti kaiken muun "keskellä", kuten vaikkapa aivan tavallisten katujen varrella. Esimerkiksi Lontoossa tuntui, että monumentit olivat jotenkin arvostetulla paikalla, kun taas Berliinissä välillä tuntui, kuin rakennukset ja muut monumentit olisivat vaan taivaasta tipahteneet. Joka puolelle oli kohoamassa uusia rakennuksia.
During the tourist tour you really got to compare the balance between old and new in the city. To me all the monuments were placed weirdly in a certain sense, it felt like they were surrounded by everything very everyday, whereas in London for example I felt like every monument was placed very specifically to an exact place where they got to shine in their majesty. In Berlin I almost felt like the monuments had dropped from the sky to a random place.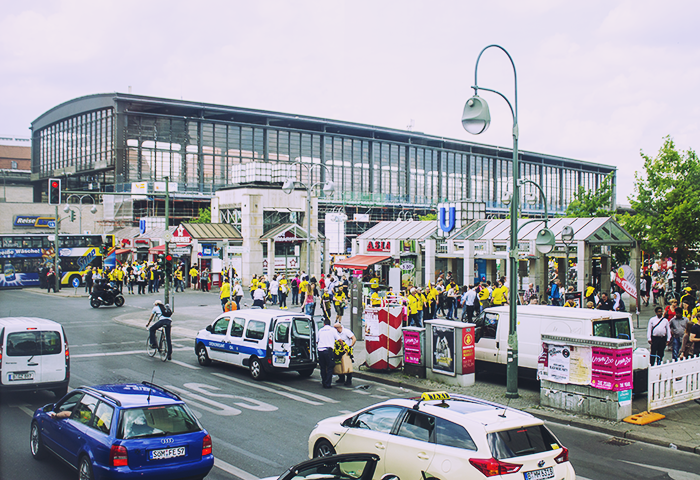 Sakasassa taisi olla menossa jonkinmoiset jalkapallokinkerit silloin toukokuussa, sillä joka paikassa oli näitä keltaisiin paitoihin pukeutuneita tyyppejä!
I guess there was some kind of a football event going on in May, since you could see people wearing these yellow t-shirts wherever you went!
To be continued!